Testimonials
Here are some of the electric guitarists that I've helped...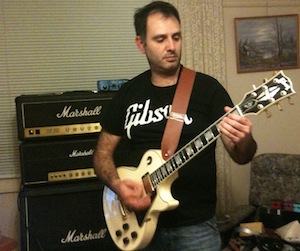 "I have been training with Craig for approximately the last 2 years. Before I began with Craig my playing had hit the wall. Progress was slow and I was beginning to really doubt if I could progress at all.
I had been to a couple of guitar teachers and all they wanted to do was go through the motions and not teach me anything about technique or music theory. I literally stumbled upon Craig's web site and thought that I would give it one more try. It was the best thing that could have happened. Now I'm able to play along to my favourite music with confidence and in time!!!
I look forward to my lessons and he knows exactly how to get the best out of me. Being a teacher myself I'm in a good position to know a good teacher when I come across one. Thanks Craig!!!!!!!".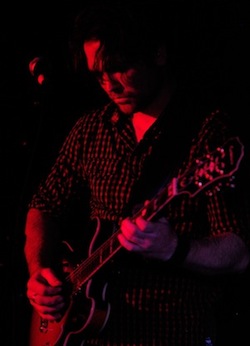 "I'd been playing guitar for a number of years and wanted to improve my lead playing and my overall knowledge of the guitar. I came across Craig while searching for a guitar teacher on the web. From our very first contact Craig was extremely professional. Rather than just get me in and start teaching, he started off by helping me to work out some goals for my playing. From then on each lesson was carefully thought out by Craig with handouts and lesson plans individually suited to my needs.
He uses his years of experience and playing very well to help his students achieve their goals. My lead playing improved significantly through my lessons, as well as my improvisation and my understanding of rhythm. Apart from being a great teacher, Craig also helps his students work towards being independent in their learning which in the long run helps as well. I would definitely recommend Craig as a teacher for any guitar players serious about improving their playing".
"I had been playing guitar for many years and decided it was time to increase my knowledge and technique, as I felt limited in my playing. I found Craig to be dedicated and professional from the outset, balancing encouragement and high standards in his pedagogic approach.
Craig's attention to detail makes you rethink your playing, how you use your time and get the best out of your lessons. His approach to improving your guitar playing I found to be quite holistic, working on weaknesses, improving strengths and introducing many new techniques and theoretical knowledge.
I was very impressed with the care and attention Craig has given me in my lessons. He took the time to ascertain what my music interests were and what goals I hoped to achieve.
Craig's professionalism and knowledge as a teacher has improved my playing and rekindled my passion for the guitar. Craig sets a high standard and encourages you to challenge yourself, but most importantly, he provides the means for you to achieve your goals and become a proficient guitarist".
"Craig is one of the best teachers I have come across. I had been playing for over twenty years when I went to Craig. I was very frustrated with the lack of improvement and the lack of direction as well as that feeling of having plateaued.
With Craig, I experienced the greatest amount of improvement in the shortest time ever. Following his curriculum gave me the grounds to rebuild my guitar playing techniques to achieve the freedom to take on some monster solos, to insights into what makes a guitar player a real musician and everything in between. Craig's delivery is very friendly and casual but you are never spoon fed. Every session was inspirational and left me in a state where I couldn't wait to take on the exercises.
I highly recommend Craig for guitarists of all abilities as he will not only challenge you to become a better guitar player but he will also find and grow that musician inside of you".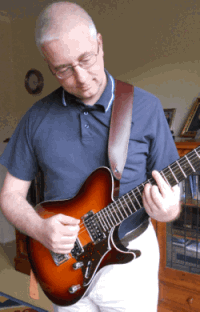 "I started learning to play the guitar about four years ago using one of the teach yourself courses but was making slow progress until I found Craig's website. I was impressed by Craig's honest and forthright manner and the fact he didn't offer instant, overnight success. I was so impressed that I contacted Craig and was lucky enough to find he had a slot available and was invited for a trial lesson. I enjoyed my first lesson so much I immediately signed up for a regular weekly lesson.
Since I started lessons with Craig my guitar playing has improved steadily and I can now play music that seemed impossible when I was trying to teach myself. Craig's teaching style is focused on the student, with every lesson tailored to my needs, there is no generic, one size fits all approach. I find Craig's lessons easy to understand with clear explanation and demonstration of techniques. Craig does not only focus on technique however, he also provides coaching on how to learn and how to practice to get the maximum benefit from each lesson.
Possibly most important of all though, I look forward to my lesson with Craig every week and I am inspired to practice and improve. If you are serious about improving your ownguitar playing I highly recommend Craig as a teacher and coach".
"I have had lessons with Craig for nearly 2 years. At the time I was really frustrated with my own playing. I love playing guitar but there were a lot of things I just couldn't do, like speed and timing. Even though I'd been playing for a few years, and had lessons with other teachers I still wasn't improving.
Craig's lessons are different to other ones I had in the past. He's very passionate about guitar and teaching, and his lessons are planned and structured to work with my goals, which keeps me motivated to working towards what I'd like want to achieve.
He pays great attention to detail, is able to give me constructive feedback and show me what I can change in order to play better. I no longer feel frustrated and stuck because my playing has improved, and is sounding so much better through the exercises and techniques he has shown me.
I would highly recommend lessons with Craig for anyone who wants to improve their playing".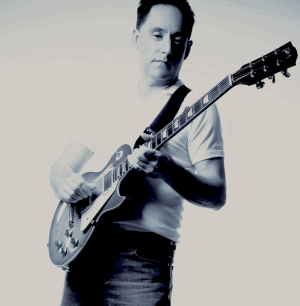 "When I was looking for a teacher I decided I needed more of a guitar coach rather than a traditional guitar teacher. I knew there were critical gaps in my playing (being 98% self taught), but traditional guitar teachers seemed to be unable to identify the issues or assist me to lift my musicianship to a new level.
Luckily I found Craig…
Craig took my goals seriously in what I wanted to achieve and then it was straight to work moving towards those goals.
From the very first lesson Craig's approach and methodologies helped me enormously. Within a few weeks my own practice time was far more focused and producing the results that I desired. Learning how to practice effectively has made my own practice a real joy than rather than hours of struggle and frustration. I still had to work very hard under Craig's guidance but I squeezed more from playing with less strain, drain and time.
Effective practice makes the whole thing a lot easier. It's just a lot of fun!!!! As a direct result of working with Craig the rhythmic sense, feel and articulation in my guitar playing has improved beyond belief. My improvisational skills have improved to the point that I feel I can be dropped into any situation and rock hard. Also I can play faster with more confidence in being tight, professional and accurate.
One of the big bonuses in working with Craig I have noticed is quicker realization of my composing, arranging and writing ideas when working in the studio. What were once areas of weakness in musicianship are now becoming strengths and a huge asset to me a guitar player, producer and writer.
Without a doubt I would highly recommend Craig as guitar coach or teacher. I get challenged in every session and I love it!!".
"I started playing the guitar on and off 10 years ago, using various tab and "teach yourself" books that taught by rote, note for note. The frustration quickly led to my playing being more "off" than "on".
A few years ago, having seen Craig's approach to guitar playing online, I approached Craig for guitar lessons and have been with him since. The lessons have been everything that I had hoped for. Craig's approach is very holistic, open, and collaborative: it is not just about building good techniques and theory, but also finding his student's own musical voice and style.
Perhaps most importantly, he has provided me with the structure and organisation to my practice so that I not only achieve my goals, but surpass them. I feel that I can see the direction in which I am heading as a guitarist, and I find this incredibly satisfying".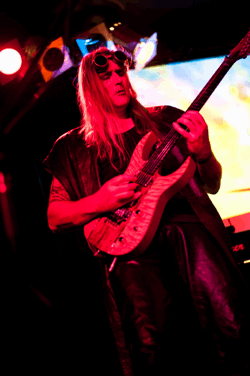 "I had been playing guitar for a long time and thought that I could play alright. But when I finally decided to try and become a really good player, I headed over to YouTube and watched some guys showing off. I then bought some over priced video lessons of guys showing off, and then a couple of dvd's of guys showing off. I watched them all, fumbled around trying to do what they were doing, and pretty quickly realised that I was feeling…
Quite inadequate.
Very frustrated.
Overwhelmed with where to start and…
Didn't know how to practise any of these things.
Then I found Craig, and he explained to me that he wouldn't just teach me a few flashy licks and tricks, but would teach me how to play guitar. And that is what he did with a very well thought out, concise set of lessons that improved all of my techniques and theory behind them.
After studying with Craig for a couple of years I can now say that I can play, understand the guitar and how it works, and what all the big words mean. Although I certaintly can't yet play everything I want to or at the speed that i'd like to, he has given me the tools to achieve it.
I will be always grateful for the time and effort that Craig has put into my playing, and I would recommend him to anyone from sit at home noodlers to the shred heads that need a few tweaks to get up to 200bpm.Craig is a damn good teacher,and he will make you a better player".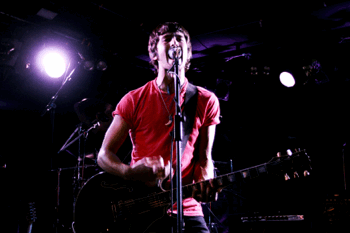 "In the last 12 months of lessons with Craig I have learned more about the art of playing the guitar and understanding music than I have in the last 11 years of playing and writing music professionally.
Week by week, lesson by lesson, he passes on his knowledge enabling you to progress deeper into the art of playing and excel faster towards your goals. The experience is rewarding and satisfying and you will also develop your focus, discipline, and an even stronger appreciation for playing the guitar.Great teachers are few and far between. Craig is one of the few".
"I had been playing guitar casually for about 20 years before I decided to take some lessons. I found Craig during an extensive internet search, and after filling out his questionnaire I attended my first lesson half-expecting him to break the sad news to me – "actually you suck way too much, I can't teach you". He didn't, for which I will always be extremely grateful!
Over the past 2 years I've become more confident in my playing, my technique has improved and I've gone places (musically) I didn't expect to. Craig has made this possible by carefully working with me to establish where the weaknesses in my playing are and where I'm trying to go. He's always been able to explain things in a way I can understand and relate to.
The best thing I can say about Craig, however, is that despite his well-structured approach to teaching, his sole focus is on what you, the student, want to get out of your playing. Every lesson he starts by asking if you have any questions. I think he's come to rue that with me! I always have questions, and I've watched as lesson after lesson the carefully prepared plan gets pushed sideways as he patiently goes through my questions with explanations and exercises. Because of this I've learned so much and I can't thank him enough for his seemingly inexhaustible supply of patience.
If you are serious about improving your playing, then you don't need to look any further. Craig is the bloke who can show you how to make it happen. Thanks Craig! I will always "have fun with that" thanks to you".
"When I first came to Craig 2 years ago I was looking gain a better understanding and control the guitar. Craig immediately helped me work out what some out my goals were in regards to my playing and tailor each lesson and the overall direction of my studies accordingly. Having been studying music full time at an institution where most of instrumental teachers are musicians themselves, it is incredibly refreshing to have a teacher who is so passionate about teaching and actually spends time and effort planning lessons and introducing new concepts and ideas in a way that is relevant to my own playing and goals as a musician (something I don't always get at school!).
Probably the most important tools have taken away from my lessons with Craig are methods I now use to approach practice and time management. These skills have helped me to use my time in a way that is efficient, and promotes consistent and progressive improvement; this has meant less of feeling insecure about areas I need to improve in and more enjoyment in addressing them!".
"I had been playing guitar for a few years, but found myself continually frustrated by glacial progress and semi-interested teachers repeating the same mantra: "Just keep practicing."
Craig has been coaching me for nearly 2 years now, and the improvements made to my playing have been amazing. I feel that I'm well on my way to becoming the guitarist I've always wanted to be.
Craig's lessons differ from others, as he actively works with you to help you achieve your goals. The lesson structure is flexible, and everything is explained in a clear and friendly manner. Whatever your goals as a guitarist are, Craig will help you develop the tools and knowledge to achieve them… his lessons cannot be recommended highly enough!".
"I am in my fifties and have the desire to learn the guitar. Over some time I have purchased many DVD and on-line courses but I soon realised I needed help to show me correct technique, keep me focused and how to practice. I have tried a few teachers and found they were more interested in showing me how good they could play and I would only spend 5 minutes out of 30 teaching me guitar, so I gave that away for a while.
By accident I stumbled across Craig's website and was drawn in by his approach where he would teach only students who he could work with, could work with him and were genuinely interested in learning, so I thought I would give lessons another try. Craig put me through a solid process to ascertain what I was looking for, where I wanted to be. He designed a full individualised program together with a practice resume to get to where I wanted to be.
Craig is an excellent teacher who ensures you obtain the maximum benefit from each lesson and designs a practice schedule for you to follow each week to reinforce what you have learnt. This ensures you are constantly moving towards achieving your goals.
If you are serious about leaning guitar using the correct techniques with a comprehensive roadmap to guide you, then I would highly recommend you contact Craig and organise a trial lesson".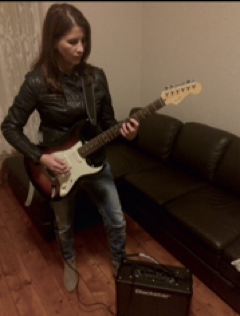 "Since having lessons with Craig I have improved a great deal with my guitar playing. He is an extremely patient teacher and very thorough. I found each lesson well structured including my practice schedule.
Craig taught me how to structure my practice sessions giving me many tips along the way. I see major improvements in my technique, better understanding of theory, and guidance in learning songs and licks by breaking them down and learning then in sections.
He made me understand the importance of focusing initially on timing with and without the metronome prior to playing with the song. The improvements are visible and he has given me a strong foundation to continue on my journey to become a great guitarist.
I would highly recommend Craig to any level guitarist. I would definitely rate him as one of the best teachers in Melbourne".
Have You Downloaded The Info Pack?
To learn more about how I can help you to improve your electric guitar playing, please download the info pack now…
Ready To Take Your Electric Guitar Playing To The Next Level?
Click below now to arrange a free 30-minute goals and assessment session with me...